Small Business Loans in NYC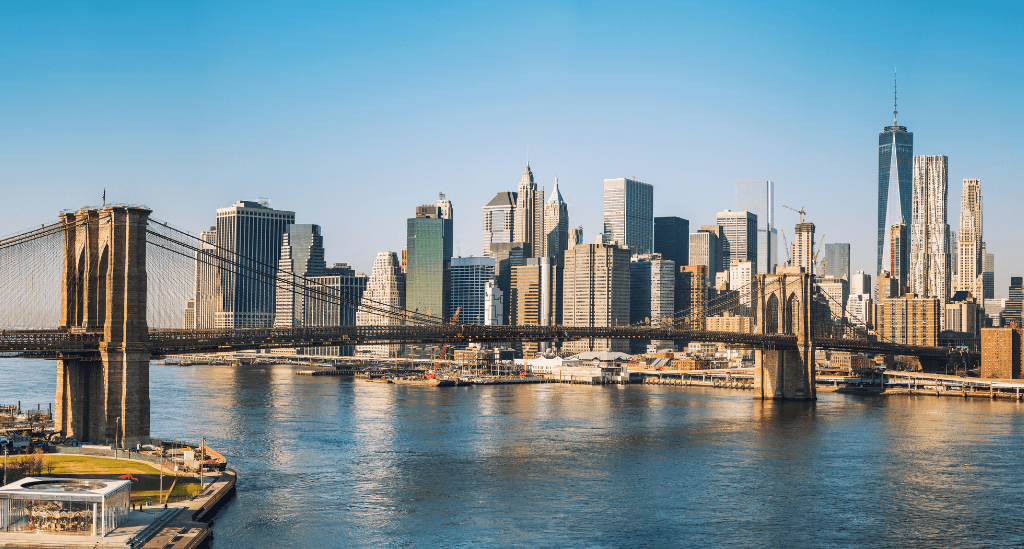 Pursuit is a small business lender that works with New York City entrepreneurs to find a loan solution that works specifically for your business.
NYC: Millions of People, Endless Opportunities
There are nearly as many opportunities for entrepreneurs in New York City as there are people: The area is diverse in every sense and people here love to support small businesses, from longtime neighborhood favorites to fresh, new endeavors. With approximately 8.4 million residents in its five boroughs, a million coming to work each day and more than 60 million visitors annually, there are truly no limits to what businesses can achieve here. And the options for small business loans in NYC are plenty.
Business ownership in the Big Apple
New York City holds promise for entrepreneurs working in just about every industry. As long as you have great ideas, solid business plans, a lot of energy and the right small business loan in NYC to get your dreams off the ground, you can achieve business ownership and growth.
The region is also home to many of the most prestigious colleges and universities, including New York University, Columbia, City University of New York, as well as specialized post-secondary programs at schools that include the Fashion Institute of Technology and Pratt. And because lifelong residents and post-collegiate graduates alike want to stay in New York City, finding talented staff and consultants may be easier than elsewhere.
Creative entrepreneurs gravitate to:
Restaurants, bars, specialty-food production and catering
Hospitality and tourism
Galleries, small theaters, music clubs and comedy venues
Fashion design, interior design and graphic arts
Beauty and personal services
It takes stamina to live and work in NYC, and small businesses that cater to well-being thrive here, including:
Fitness and yoga studios
Massage and many other therapies
Nutrition consulting and meal preparation
Family- and child-focused wellness activities
There are also countless opportunities for business-to-business success, including:
Building-management and maintenance contractors
Financial services
Information technology (IT) and related fields
The outer boroughs (Staten Island, Queens, Brooklyn and The Bronx) support advanced and specialty manufacturing. Brooklyn Navy Yard is a haven for all sorts of designers and fabricators of specialty goods and Bathgate Industrial Park in The Bronx is a great location for a range of businesses that benefit from its proximity to the other boroughs, as well as Upstate New York.
We'll help you navigate New York City's business opportunities and challenges
There are challenges to opening and growing businesses everywhere: Among them are finding the right location for your business and having the funding you need to launch, grow and succeed. And like everything about New York City, for entrepreneurs, the challenges can feel even bigger here.
Whatever your needs, Pursuit has the knowledge, experience, resources and small business loans in NYC available to support your dreams. Among our signature loan programs are:
The SBA 7(a) loan, which is the SBA's most popular business loan. These loans are developed to be affordable, with fixed interest rates and longer repayment terms. And with maximum loans up to $5 million, you'll have the funding you need to successfully launch and grow. The SBA 7(a) works for general, day-to-day business needs, including equipment, staffing, marketing, purchasing inventory and more. You can also use it for security deposits and rent to help you lease your ideal location. In addition, the SBA Community Advantage loan is a facet of the popular 7(a) that's targeted to supporting small businesses in underserved communities.
The SBA 504 is the loan of choice when your project involves the purchase, renovation or even construction of commercial real estate related to your business, with maximums up to $5 million. You can also use it for major equipment purchases and other fixed assets, as well as to refinance debt that you took on for business expenses. Owner equity is typically just 10-20%, and the longer repayment terms – up to 25 years at fixed rates – mean that you'll have more money available each month to reinvest in your business. Learn more about commercial real estate loans in NYC. 
Pursuit's SmartLoan is the ideal choice when your business needs an infusion of cash at competitive terms. SmartLoans are available for $10,000 to $100,000, the online application can be completed in minutes, approvals are received within two business days and the money can be in your account in just five business daysYC
Pursuit can help you find the right loan for your NYC-based small business. Contact us to learn more.
New York City Success Stories
Learn how these NYC business owners used a loan from Pursuit Lending to grow their business.
Reach out to Pursuit's New York City team today!
If you can dream it, we can help you achieve it in New York City. Contact us today to learn more about how a small business or startup loan from Pursuit can help your NYC business succeed and thrive.